Panagiotis Bousoulas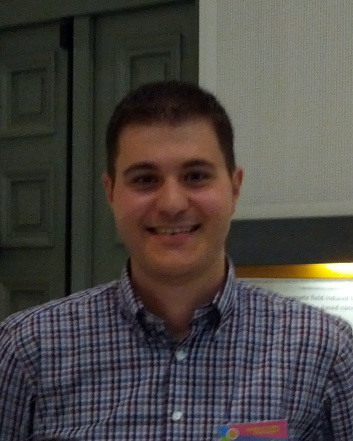 Information
| | |
| --- | --- |
| Position | PhD Student |
| Office | 116 |
| Telephone | +30 210 772 1679 |
| Fax | |
| Email | panbous@mail.ntua.gr |
Bio
Bousoulas Panagiotis received the B.Sc. and M.Sc. degrees in Applied Physics and Microsystems and Nanotechnology, both from the National Technical University of Athens, in 2010 and 2012, respectively, where he is currently pursuing the Ph.D. degree in nanotechnology and emerging memories.
Scientific interests
His current research interests include the characterization and modeling of electrical and physical properties in resistive switching and flash memories. He is also interested in the influence of radiation on non-volatile memory cells as well as the usage of nanoparticles in novel devices.
Selected publications
"Engineering amorphous-crystalline interfaces in TiO2−x/TiO2−y-based bilayer structures for enhanced resistive switching and synaptic properties "

,

Journal of Applied Physics

vol.

120

, pp.

154501

,

2016

, doi:10.1063/1.4964872
,

"Low-Power and Highly Uniform 3-b Multilevel Switching in Forming Free TiO2-x-Based RRAM With Embedded Pt Nanocrystals "

,

IEEE Electron Device Letters

vol.

37

(7)

, pp.

874–877

,

2016

, doi:10.1109/LED.2016.2575065
,

"Influence of oxygen content of room temperature TiO2-x deposited films for enhanced resistive switching memory performance"

,

Journal of Applied Physics

vol.

115

(3)

,

2014

, doi:10.1063/1.4862797
,

"Influence of Ti top electrode thickness on the resistive switching properties of forming free and self-rectified TiO2-x thin films"

,

Thin Solid Films

vol.

In Press

,

2014

, doi:10.1016/j.tsf.2014.09.041
,

"Monitoring TiO2-x resistive switching by Conductive Atomic Force Microscopy"

presented at:

E-MRS Spring Meeting, Symp. S, Lille, France

,

May 26-30

,

2014

,