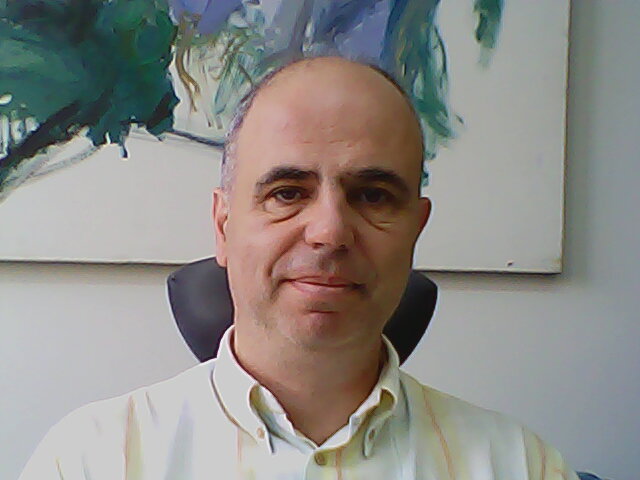 Physics Department
School of Applied Sciences
National Technical University
Zografou Campus 157 80 Athens
157 80 Zografou, GREECE
Tel.:
+30 2107721641 (direct) 2107723009 (secretary)
Fax.:
+30 2107723025
Email:
konstant@mail.ntua.gr
URL:
http://www.physics.ntua.gr/~konstant
Personal
Born in 1964
Married to Chrysoula Petropoulou, children: Eirini, Serafim, Maria, Nikolaos, Petros, Charalampos
Education
Ph.D. in Physics, Syracuse University, Syracuse, NY, USA, August 1993
Thesis supervisor: Mark Bowick. Title of thesis: Unitary Matrix Models: A Study of the String Equation.
M.Sc. in Physics, Syracuse University, Syracuse, NY, USA, May 1989
B.Sc. in Physics, University of Athens, Athens, Greece, June 1987
Academic Positions/Research
Teaching
Physics Instructor, National Technical University, Athens, Greece, September 2003-today. Taught undergraduate and graduate courses in Computational Physics I, Computational Physics II (Monte Carlo Methods in Physics), Programming with Applications for Engineers (Scientific Computing), Quantum Field Theory, Physics II (Electromagnetism I) and Physics IV (Quantum Mechanics I).
Physics Instructor, University of Crete, Heraclion, Crete, Greece, September 1999-today. Taught graduate/undergraduate courses in Classical Mechanics, General Physics (waves, optics, quantum physics, special theory of relativity) and Uses of PC.
Physics Instructor, Greek Open University, Patra, Greece, September 2001-2011 and 2016 - today. Taught Introduction to Physical Sciences (freshman calculus and physics) and Classical Physics II (waves, optics, special and general relativity and introduction to modern physics and quantum mechanics).
Teaching Assistant in Physics, Syracuse University, Syracuse, NY, August 1987-June 1991 and September 1992-January 1993. Taught several recitation and laboratory sessions of large undergraduate classes in Electromagnetism, Astronomy, Electronics and General Physics.
Physics Instructor, Syracuse University, Syracuse, NY, Summer sessions of 1989 and 1992. Taught undergraduate classes in Electromagnetism and Modern Physics.
Publications
Please visit the URL:
http://www.physics.ntua.gr/~konstant/homepage/publications/